---
The touch screen is 4.3 inches.

The display is full color and has a resolution of 480x272 pixels.

Suitable for connecting to the Duet WIFI motherboard. More
Manufacturer: Duet3DProduct code: 00208 Shipping and Payment
€ 102,54 incl. VAT
The touch screen is 4.3 inches.

The display is full color and has a resolution of 480x272 pixels.

Suitable for connecting to the Duet WIFI motherboard. More
Manufacturer: Duet3DProduct code: 00208 Shipping and Payment
The PanelDue is a colour touch screen controller for the Duet and other 3dprinting electronics that support it.
The control board and firmware support 3 screen sizes: 4.3", 5" and 7", at two resolutions: 480×272 (4.3-inch displays) or 800×480 pixels (5- and 7-inch displays). Note that the lower resolution of the 4.3" display means that it cannot display as much information on the screen – for example a maximum of 4 extruders, as shown in the picture.
5V power from host 3D printer controller.
2-wire async serial interface with 3.3V signal level (5V tolerant input).
Connections to the onboard micro SD card socket as well as the PanelDue serial and power connections are all available via a 10-way ribbon cable.  A 300mm long ribbon cable (maximum recommended length) is available as an option to add to your order.
4-wire cable to connect the PanelDue to your controller board for the serial and power connections. This cable is supplied (1m long)
There is an overview of connecting a PanelDue in the documentation.
Alternative products (1)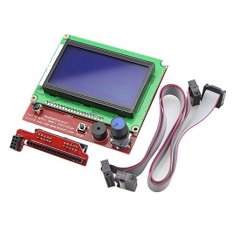 Order
€ 18,01
€ 14,88
excl. VAT
Graphics display with driver for 3D printers. Memory card reader is integrated - smart reprapdiscount full graphic controller. 128x64…